As most restaurant owners and catering managers are aware, restaurant kitchens can be challenging to operate. When the kitchen is running efficiently, the front of the restaurant is also running well. The most challenging question in the foodservice industry is how one can optimize the running cost and still make the restaurant kitchen more efficient? Restaurant technology enhancements are solutions.
A decade ago, kitchen automation was considered by some as an expensive endeavor. Due to certain factors such as high operational pressure and lack of enough staff, systems such as the QSR Automations ConnectSmart Kitchen (CSK) are becoming popular among restaurants. Such systems could relieve the stress in a busy kitchen by easing the food preparation process and ensuring that orders are done quickly.
Below are intelligent technologies that are cost-effective that you can use to achieve kitchen efficiency without compromising on quality.
1. Bluetooth Temperature Monitoring Software
One of my favorite Restaurant Technology Enhancements is utilizing software that can remotely monitor the temperature in restaurant kitchens in places like the freezer, fridges, and walk-in cooler. Restaurant managers and chefs programs customize limits for different foods and equipment. They are alerted if temperatures exceed the acceptable threshold or if the food passes the danger zone. The Bluetooth sensors record the temperatures into the HACCP log to prevent staff from falsifying daily reports by eliminating paper logs. This system takes a proactive approach toward food safety, helps restaurants avoid product loss, and ensures customer safety.
2. Computerized Inventory Tracking
Restaurants utilize digitized inventory tracking methods. By switching over into an electronic inventory system and through mobile devices, restaurant employees can view and submit inventory with greater efficiency and accuracy. Managers keep track of their items by utilizing this software to keep track of actual product count. These trackers can calculate how much inventory a restaurant should have in hand based on sales made. These systems quickly detect discrepancies due to over portioning, waste, or even theft.
3. Digital Table Reservation Manager
Another accessible Restaurant Technology Enhancement to avoid long waits at restaurants for customers is a digital table management software. For example, Fork Manager helps keep customers happy with your services by enabling online bookings and reservations. This software can also notify customers with accurate waiting estimates and inform them when their table is ready. The restaurant staff is equipped with provided reservations such as favorite dishes occasion to plan appropriately.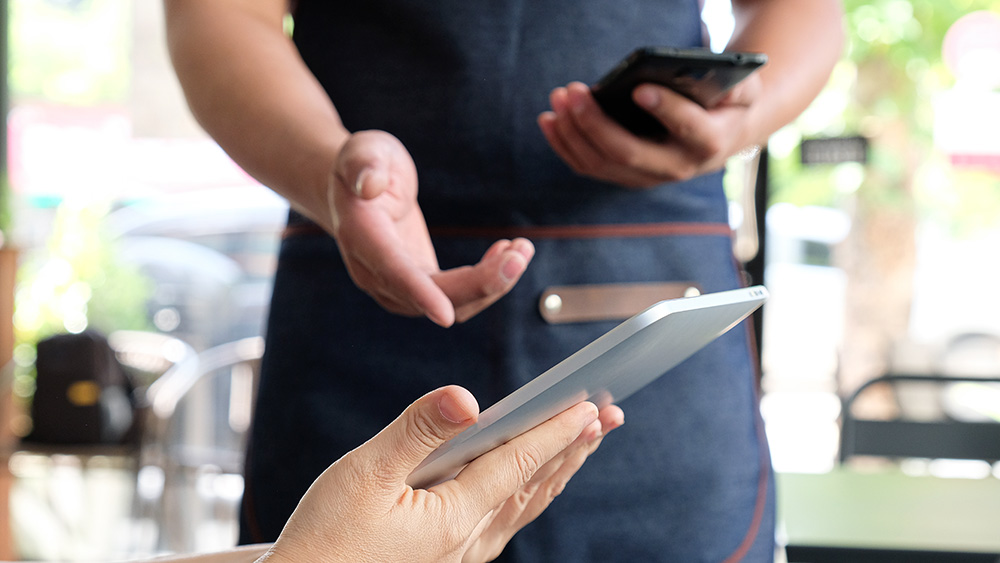 4. Virtual Reality Employee Management
VR and HR have come together to revolutionize employee management, with a headset and customized software. New employees can engage in a unique experience at a minimal cost without risks of a typical training session. Through VR onboarding, new trainees don't have to touch or be in the restaurant to learn how to perform their jobs. This technology, tested by HONEYGROW, demonstrates how to use this technology to prepare their workers. This restaurant technology enhancement is another way to increase kitchen efficiency.
5. Automated Purchasing Software
The biggest mistake any restaurant can make is the lack of enough food to serve their clients. With this technology, any hotel owner or manager can let the automated purchasing system such as Gordon food service GFS Connect do all the work, linking it to the restaurant's inventory system this system will help managers stay alert of the stock available by suggesting intelligent purchasing recommendations' and managers can also enable automatic orders when the available inventory reaches a certain threshold
6. Food Safety Management System
A proper food safety management system ensures food safety plans, employee safety plans, and customer safety plans by complying with food safety regulations in light of the COVID 19 pandemic. Food safety management systems range from software like smartphone applications that can easily connect to appliances and automatically check food safety indicators. Some of these systems include Checkit, and Safefood 360 are a great tool to enhance restaurant technology to control food safety.
7. Food Delivery Systems
An automation system such as Power Kitchen improves accuracy and speed across food delivery processes. Especially due to the increased number of online orders at these current times when kitchens are under pressure. Power kitchen gets kitchen staff working in harmony to enable quick delivery of food. Once an order is made, chefs and catering managers view it on interactive touch screens to determine which orders to concentrate on based on the prep time of each meal whether the cooking period varies for each dish the system calculates the average cooking time allowing the food preparation speed to be carefully monitored. The speed of the services is a key metric of most restaurant operators. Also, there is a high number of technologies that help to get the food to the client.
Conclusion
The technology utilizes kitchen operational efficiency while lowering the operational cost. Over the last decade, technology has focused on cost controls, resulting in most players in the food industry, embracing it. Most key players in this niche launched phone applications that will give chefs and catering managers information without stepping out of the kitchen. This system will facilitate quick access to operational methods, recipes, and cooking advice. A good example is the combi oven technology from Rational replaces conventional cooking appliances such as grills, boilers, and much more on just 10 square feet of space. This combi oven saves up to 70 percent of the energy used other appliances on similar tasks. But we will do an article separately on Rational technology.
However, as a restaurant owner, manager, director, or an executive chef and require support from industry leaders to become a top tier professional, we understand that in this profession you are faced with time constraints that's why we offer coaching over the phone, via video conferencing or in-person. Contact us and let us coach your team.

Book a free 30-minute consultation. To learn more, visit my restaurant consulting or restaurant coaching services pages. To acquire new skills, visit our Online Culinary School and start making change.