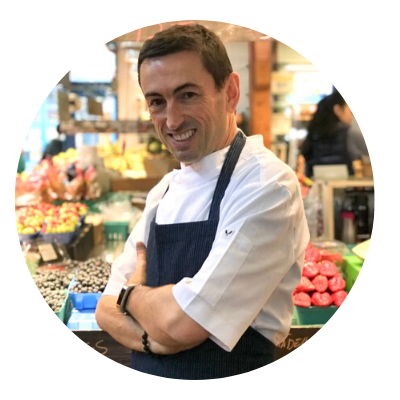 Chef Eric's private chef services include personal chef services, private cooking classes, team building cooking classes, and Live Virtual Cooking Classes. We offer a unique and high-quality way to experience local cuisine in the comfort of your home, rental, or head office. We are based in Vancouver and services clients from Whistler to Chilliwack.
During the Covid-19 pandemic, we follow the British Columbia Provincial Health Officer guidelines, and only events with specific settings are possible. Before starting, we check body temperature and give a brief Covid-19 questionnaire ao all participants to fill. We also offer shorter live Zoom video cooking classes for private parties and team-building exercises. Ask for details.
Do you want to impress your guest? Don't look further. Call or email Chef Eric today to book your unforgettable private dining experience with a French Private Chef. 604-781-9557 or email info@911cheferic.com
Private Chef Services – Vancouver – Whistler to Chilliwack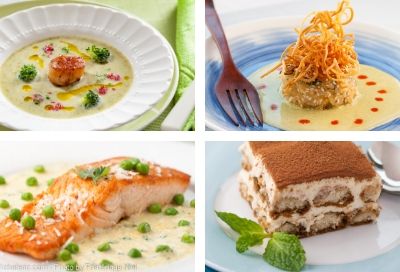 Chef Eric's Private Chef Services are the most high-end dining solution for all of your special occasions. Whether you are throwing a cocktail party or a seated dinner for a romantic evening, birthday, anniversary, Christmas, cocktail event, or hosting valuable clients, I have the perfect dining solution. Over the years, we caterer parties from 2 to 400 all over BC.
Chef Eric will travel to your home or offices wherever you are to cook a fantastic dinner, leaving you free to enjoy yourself and your guests. For your next dinner party, don't waste time in the kitchen when you could be entertaining your family, friends, or clients.
"We have known Chef Eric for over 10 years and he has hosted many of our corporate and personal events. He feels like.a part of the family and our events are always a huge success. Some of our best memories have been with Chef Eric while entertaining our family and friends. Thank you so much! You always bring your A-game and your friendliness and warmth make for an exceptional evening. "

"Great experience! Eric is not only and fun and clever teacher, but an excellent dinner guest full of fascinating stories. We not only learned a lot and ate great food, but we talked a lot as well. His response time and ability to communicate what he exactly needed for the day was excellent as well, which is highly appreciated when organizing these events.

Overall, it was a blast and we look forward to seeing more of Chef Eric in the future!"
"Thanks again for Friday night – the food of our Cocktail Party was superb!"
PRIVATE COOKING CLASSES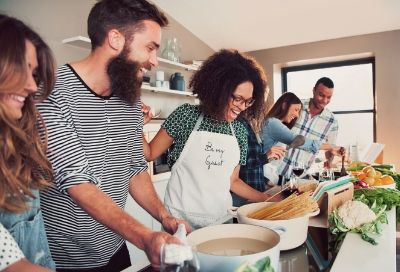 Treat yourself to a private cooking lesson or gather some friends and spend a fun-filled, memorable day in the kitchen with the chef to the stars Eric Arrouzé. Learn in the comfort of your own home and combine, learning, entertaining, and dining in style with a private chef, all in one fun activity.
The three to four-hour class is entirely hands-on with half the time spent cooking and half the time spent enjoying the tasty meal you've prepared. Like having your private chef at home!
Chef Eric's Vancouver Cooking Classes Menus includes a wide variety of cuisines from French, West Coast, Italian, Spanish, Greek, Turkish, Moroccan, Thaï, East Asian, and Indian cuisines. For special requests, Chef Eric will work with you to custom design a menu according to your tastes, special dietary needs, including vegetarian or vegan and budget.
"I've taken cooking classes from Chef Eric for ten years and they are the next best thing to a trip to France! Chef Eric shares the regional history and culture around French foods and wines. He provides recipes that a busy working professional can master and encourages using seasonal, and local, ingredients. "
"Chef Eric is not your typical teacher- and that is what makes him so good at what he does. It would be tough to find a better teacher for the culinary arts anywhere-he makes learning to cook with any skill set fun. He is beyond talented, patient, and driven by a true passion-never bored or boring. Every student felt that he was speaking directly to them with no fear. It was a great learning experience and a great pleasure to have been taught by him. He knows his stuff."
"
Passionate, Energetic, Meticulous, Entertaining, Storyteller; wrap all of these qualities
into a gifted culinary master and you have Chef Eric
"
Each of Chef Eric's cooking classes includes:
All the food necessary, preparation and market time
Organic, local and sustainable food as much as possible
Approximately 2 hours of hands-on cooking time to prepare restaurant-quality courses
1 ½ hour of dining time to enjoy the dishes you've prepared
Recipe handouts for every participant
Professional kitchen knives for every participant to use
Please note: We do not provide wine or beverages, but you are more than welcome to supply what you like.
TEAM BUILDING COOKING CLASSES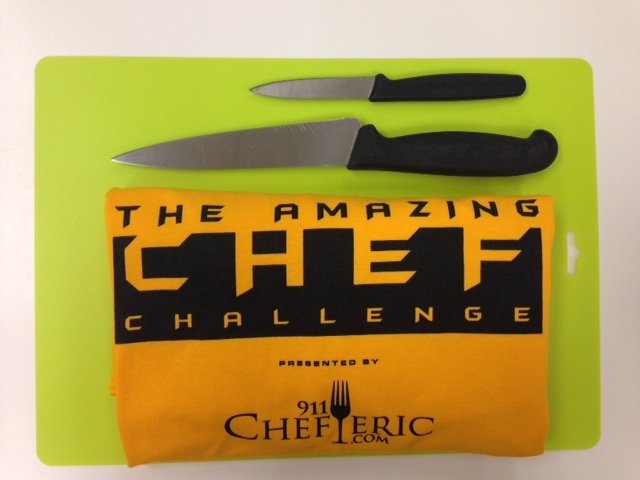 What a great way to bond with your colleagues! Improve group dynamics by teaming up to cook a tasty meal that everyone will enjoy. You'll get to know your fellow employees in a lively, creative atmosphere and see what delicious results you can achieve together. Nintendo, Microsoft, Telus, CIBC, Macromedia, and RezRez are some organizations that Chef Eric has led through culinary team building lessons.
Chef Eric's Team-Building Event Cooking Classes Are an Original and Entertaining Way To:
Celebrate the achievement of significant company milestones.
Raise morale during challenging times.
Reward employees for a job well done.
Thank partners and business associates for their continued relationships.
"Chef Eric, we had a blast last night. You are a real maestro and an amazing entertainer! The team had a wonderful time and loves the food. Our best team building event so far. See you next year as they already make a plan for next year! Bravo!"
"Just wanted to let you know how much the team enjoyed our cooking class on Friday. This morning, people are still talking about how it was one of their favorite team-building events. Not only was the food delicious but the whole process of creating a meal together, having each team present their course, and hearing your stories about each dish made the day wonderful. I am sure this will be one of the requested events to have again! Thank you, "
"I loved the soup course! Learning to make new soups was fun, and the smell in the house was amazing. I even cooked some recipes with my family, and all of my friends wanted to come for dinner. I have never cooked so much healthy food before, and we have even decided to do a Potager. Thanks to the online video cooking classes, I was able to learn within the quiet, safety, and comfort of my own home… " Ex junk food eater.