Do you want to create a menu that stands from the competition? With our restaurant menu design tricks, you can be sure that you will create an effective menu for your business. The first step to take is to set up a clear business plan. That involves consideration about customers, finance, location, competition, and not least importantly, the menu. The menu will be the first touchpoint with your clients. Your menu also should express your restaurant's personality and your business goals.
Why creating an intriguing restaurant menu is important for your business?
Creating a unique menu is the key to success. How you present your dishes is as important as what the server will bring to the table. You want to intrigue your customers by offering them not the 'basic' American burger or the simple French fries. The menu stands as a first impression before people try the food. And it is generally known that the right first impression always makes a difference. Furthermore, creating an exciting menu will drive more customers to your business and increase profit.
How to design your restaurant menu, and what to consider?
An effective restaurant menu design is a mixture of excellent layout, well-written descriptions of the food, and reasonable pricing. Let's discuss all of these essential points for the creation of the right menu.
The design of your restaurant menu is essential. Does your menu design match your business? For example, choose colors that are associated with the type of cuisine you serve. Moreover, it should be simple and elegant, designed, and easy to read. You do not want your customers to have difficulties reading it. Do not put too much text on one page because you do not want to overwhelm them with information. Keep your menu design simple and use a readable font, and be sure that you will increase your customer experience.
Choose what you want to include in your menu. Avoid offering a vast selection of items because it is possible to confuse customers. Moreover, remember that the kitchen and restaurant work together. Consider what your kitchen staff is capable of producing. You do not want to include items that will slow down the work of the whole restaurant. Menu items should be two things: easy to prepare in a rush time or easy to make beforehand and reheat after. Think about that before creating your menu.
Special offers for different celebrations around the year are always welcomed. Add some specials to intrigue your customers and persuade them to visit you because you only serve that particular dish at this time of the year. Another trick that you can use is to offer promotions on not that busy days or periods so as to drive more customers. You can try to provide a special lunch for two for a specific price or offering a discount for the next visit if they purchase a bottle of wine. There a lot of possibilities out there that you can think of. Just use your creativity when planning your restaurant menu design.
Know when to update your menu
Keep in mind updating your menu from time to time. That does not mean updating it at all because it is possible to lose regular customers who are coming for the particular 'special' dish of yours. So, update it slowly as just changing some of the recipes that are not sold that often. Think of adding new spices or seasonal vegetables to your most famous dishes. Make sure your staff is aware of the changes and can make recommendations about them. This will encourage people to try new food from the menu and will keep them interested in your business.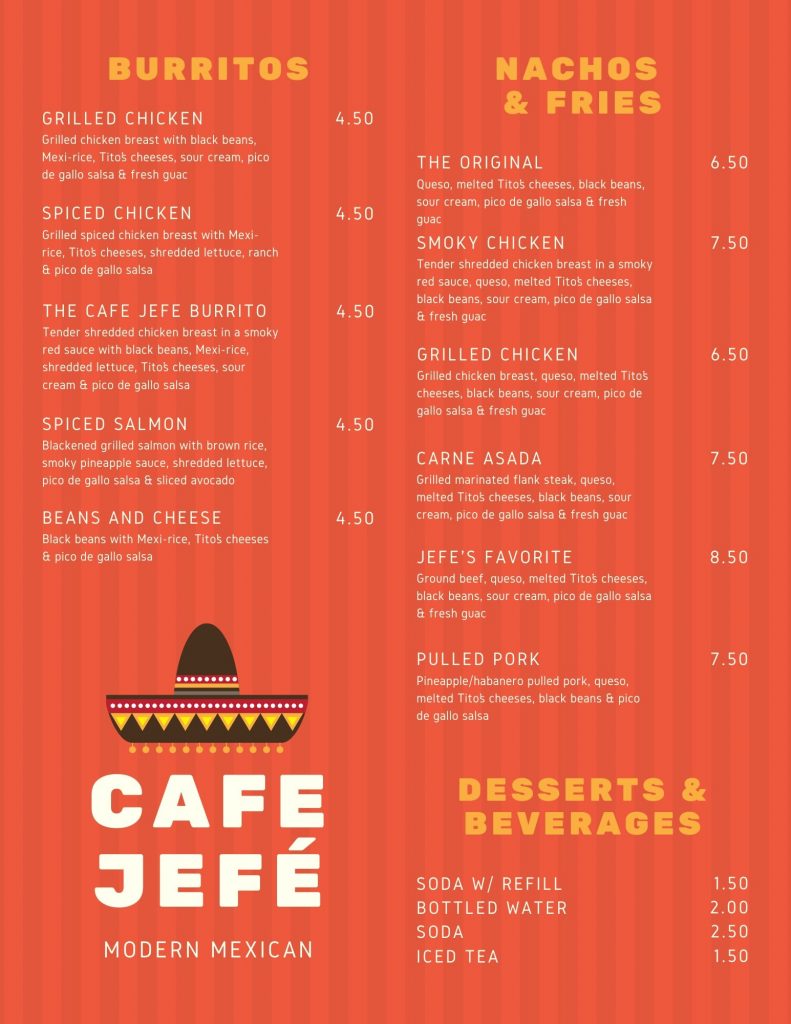 Have you ever thought about how to use psychological tricks to influence people?
Here are some top design suggestions you can use for your restaurant menu:
1. Color influence
The colors on a restaurant menu design can influence what we order. Studies show that green color on the menu is associated with fresh food, whereas the orange stimulates the appetite. Moreover, orange stimulates the brain by increasing the oxygen and is associated with healthy food. On the other site, using yellow on the menu makes people happy and grabs their attention. Red is the color of action, so you can use red to make people order particular food. So, choose wisely the color of your menu, depending on your goals.
2. Feeding the imagination
The description of your menu plays an essential role in the purchasing decision. Use the creative descriptions to intrigue your customers. For example, adjectives like freshly-picked, sun-dried, or home-brewed can make people imagine these processes and want to order the food. Another thing is to use nostalgia as a part of your description. It is more likely for people to order 'Grandma's chicken pie' rather than just 'Chicken pie.' The sense of nostalgia makes people feel they are ordering something special, and the money does not matter.
3.The power of limited choices
A vast menu may seem to be a good idea, but less is more. A well-designed restaurant menu will have limited choices in each category. Scientists have proven that if you give more options to your customers, it is more likely to confuse them. Just keep it simple and let them choose more quickly.
4. Take away the money sign
It is proven that the money sign on the menu makes people think more about how much they spent. And we want them to spend more, right? For that reason, specialists recommend removing the money sign from the menu and just write down the number. Another trick is to write the number right below the description, not as how we usually see it on the right side of the description.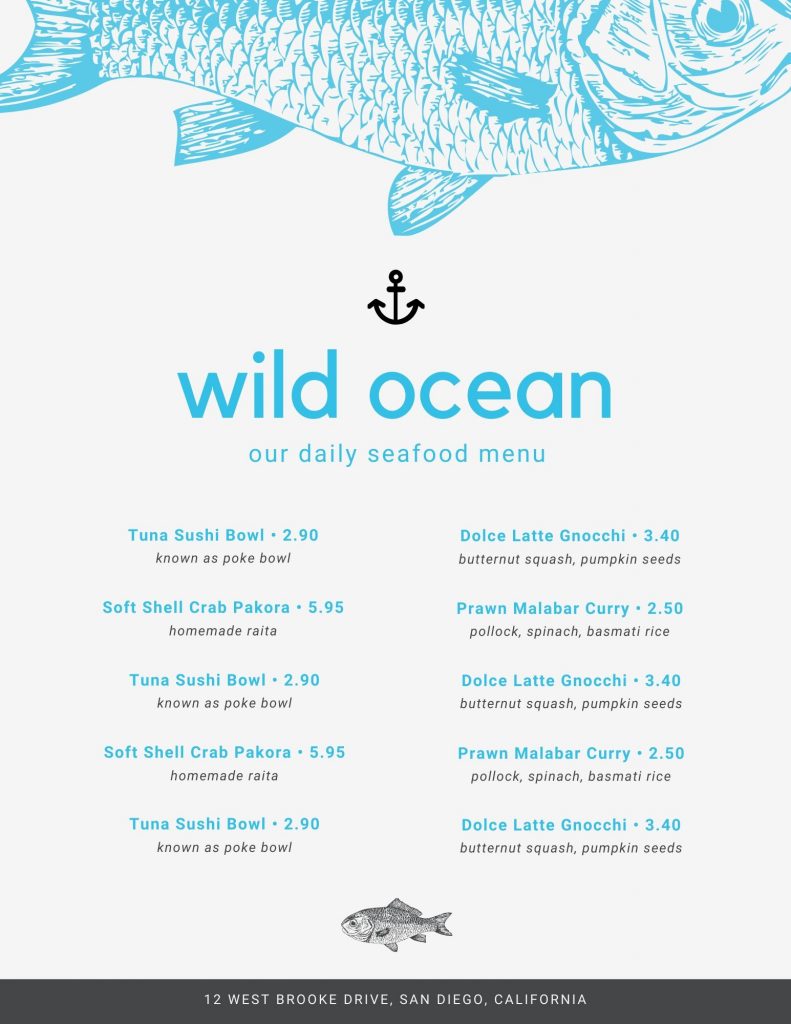 How should I price my menu?
Once you have decided what food your restaurant is going to offer, it is time to think about pricing. Each of your items should be priced to reflect the cost, increase profit, and also to be affordable to customers. Firstly, you should calculate the actual cost of the dish, and then you can set its price. However, do not set prices too high. Keep in mind that a combination of high and low costs food is excellent for your menu and profit margin. Another aspect to consider is to keep the price simple. A lot of business owners think that when setting a 19.99$, the dish more favorably to be purchased than simply write 20$ down. That is a big confession, so just keep your price as simple as possible.
New QR code restaurant menu design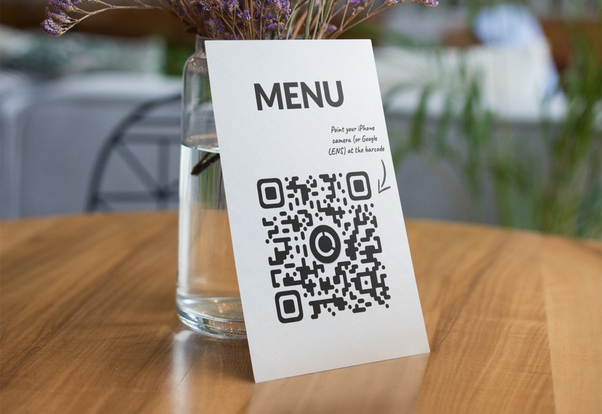 With the worldwide pandemic, COVID-19, people become more concerned about safety. Make them feel safe using the QR code menu so customers do not have to touch paper or plastic menus, which can transmit bacterias. This change can have a positive impact on your business.
First of all, you will provide your customers with a virus and bacteria-free menus instead of paper menus. Second, you will save money and be eco-friendly. Moreover, it will be much easier for you to make changes to the menu. A modern take and contactless solution to do your restaurant menu design. More about how to reopen your restaurant after COVID-19 pandemic you can read the following article: COVID-19 Restaurant Reopening Best Practices
Creating an effective menu is a critical aspect of your business plan. Following these trick suggestions, you can be sure that the profit of your business will increase and so customer satisfaction.
How I can Help?
Curious to learn how I can help you and your restaurant business? Let's talk!
Book a free 30-minute consultation. To learn more, visit my restaurant consulting or restaurant coaching services pages. To acquire new skills, visit our Online Culinary School and start making change.