I offer leadership coaching in English or French, primarily to food industry leaders. All coaching sessions are strictly confidential, with nondisclosure agreements signed. I am a fully certified Leadership Coach VCC and from Case Western University.
WHAT IS LEADERSHIP COACHING?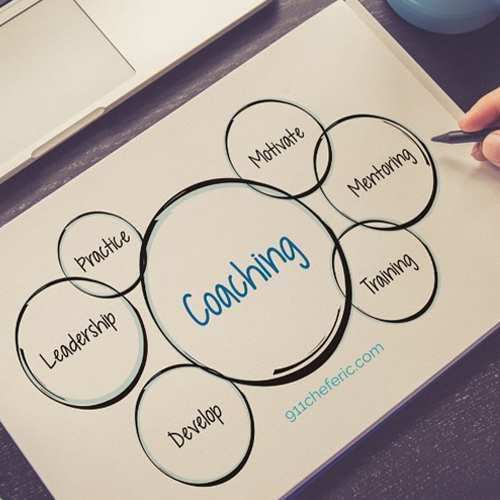 Leadership coaching assists clients in improving their effectiveness and performance and helps them overcome challenging obstacles that would take more time or extraordinary effort to accomplish alone. At the outset, crystal clear expectations are set between you and your coach to define what you want to achieve through coaching. We then employ creative and thought-provoking techniques to encourage client self-discovery and elicit solutions and strategies that you would likely not have encountered as rapidly if left to your own devices.
HOW CAN LEADERSHIP COACHING HELP ME?
Lack of clarity, definition, or circumstances that demand an urgent response are all situations in which leadership coaching can help you achieve outstanding results. If you've identified knowledge or skills gaps amongst your team members, or wish to accelerate your own results then we can help you devise a step by step plan for success. Another common concern for top food industry professionals is how to achieve an appropriate work-life balance without creating unwanted consequences in either sphere; coaching is an excellent option for obtaining a positive long-term solution for this sensitive matter.
HOW IS LEADERSHIP COACHING DIFFERENT FROM CONSULTING?
Coaching is not consulting. Consulting is directive and content-specific. Coaching is about facilitating exploration, expanding awareness, making decisions, taking action, and designing environments that support your vision. When a coach consults or instructs he or she will shift hats to that of a consultant or instructor". As a coach Chef, Eric will honor your ideas and make you explore them so that they best fit your goals. He will use his experience and knowledge to assist you in your thinking process.
Case Study
Testimonials from both the manager of the employee who was coached and the employee himself:
It seems that Jacques has found your services valuable by giving him guidance and clarity during his transition.
I look forward to reviewing with Jacques his experience with you and where we can go next.
I just wanted to let you know how much I appreciated working with you for the last 6 weeks. I never thought that after 30 years of managing and administrating kitchens that the service of a coach such as your self would help me on so many levels. You made it very easy for me week after week to do the work I needed to do, and let me do it step by step to grow to a much higher level of confidence as an individual and as a Chef. working with you as my coach, gave me a stronger belief in my professional and personal capabilities. I feel great about my life and myself. Again thank you, Chef Eric, you gave me great tools that will help me for the rest of my life.