In the unprecedented – for our generation – a situation the world has been experiencing. People changed many of their daily habits they considered normal until a month ago. For instance, going to work, taking kids to school, or dining out is no more an option in many countries around the world. There are many restaurants dealing with COVID-19.
How will COVID-19 affect the food industry, and how can business owners handle it?
This article intends to shed light on how the restaurant business will be affected by this situation. It also talks about what steps and measures restaurant owners around the world are taking towards keeping their businesses healthy. The data was drawn from a survey that was carried out earlier this month among 563 business owners in the food and beverage industry.
Although most of the businesses have been forced to deny their guests the dining-in option 14% said that they claim they were planning on continuing business as usual. Although most of them weren't serving dining-in guests, they chose to stay in touch with their customers using social media. This is one way that restaurants are dealing with COVID-19.
Now the main concern was: how do you keep your business healthy if you cannot have guests to dine in?
The obvious answer is, of course, take-out and delivery. For a large number of restaurants, delivery was a secondary option and a smaller percentage of a business. Less than 20% replied they were not planning on offering delivery.
For the rest of the businesses, it was clear that they had to ramp up delivery and take-out options– but how?
Here is what some restaurateurs suggested:
Taking action through social media to make their delivery option visible;
offer large discounts;
free delivery;
reduce menu choices;
Include reheating instructions in the packaging;
offer bottled soda as a drink offering;
create thank-you items, such as gift cards or a note from the business owner thanking the customer for their preference.
Moreover, to help restaurants deal with COVID-19, staff should make sure to respond to phone calls promptly and in a professional manner. Also, they should handle potential complaints courteously.
All orders should be followed up with a phone call. This is to make sure the food satisfied and met the expectations of the customers. Also, the inclusion of a list of future specials, as well as their take-out and delivery menu with all orders.
At this point, just because guests order their food online or by phone, it does not mean that the processes normally followed for food preparation, handling, and serving (delivery or take-out in this case) should not be the same as usual.
Don't underestimate food hygiene
Particularly during this pandemic, food hygiene should be of major importance in the professional- and not only- the kitchen. Chefs and kitchen will be extra cautious when handling food, and make sure safe and high-quality dishes when delivered to customers.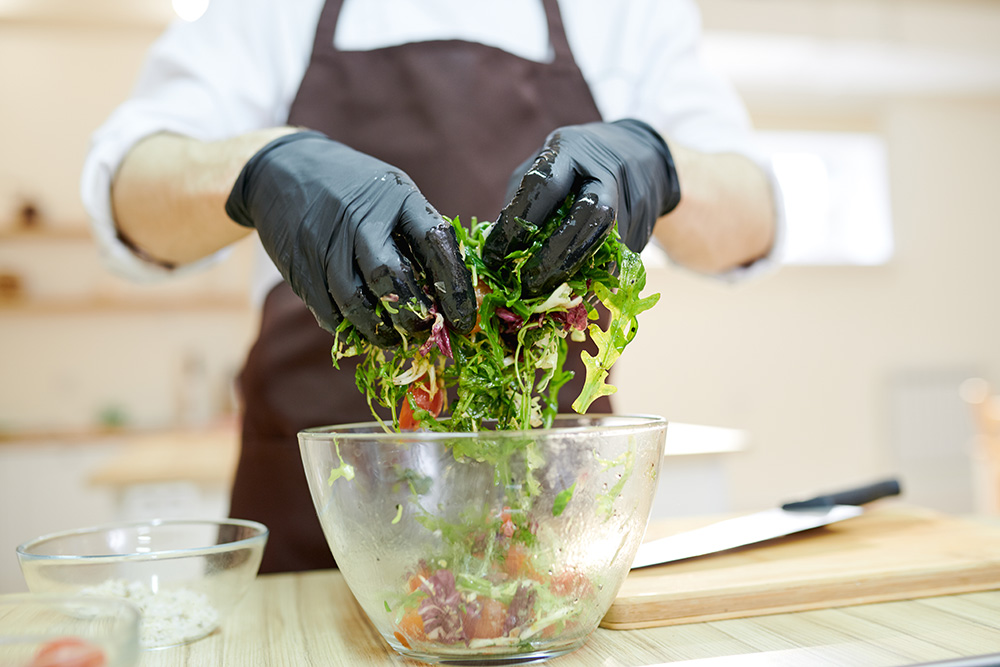 What about the restaurant staff?
Furthermore, the survey asked business owners about their plans on keeping dining room service staff during the pandemic. The slight majority answered that they were not planning on keeping them. On the other hand, there was a large percentage of owners (about 47%) that said they would try to incorporate them in their business in other ways. More specifically, some businesses moved the dining room staff to delivery drivers, answering the phone for take-out orders or cashiers. However, some admitted that if the situation gets worse, they will reduce staff and limit it to key employees only- or offer shorter shifts.
As far as paying staff that can't work during the next two weeks, the vast majority answered that they were not planning on paying them. Many admitted that they still had not worked out a plan, but there were several restaurant owners that claimed they were willing to pay at least part of the salaries so as to help their employees in this difficult time.
How Restaurants Prepare for Cutting Costs, and Maintaining Cash Flow
Regarding plans for cutting costs and maintaining cash flow to survive during COVID-19, a large part of the respondents said they were not planning on taking any measures. On the other hand, more than 60% replied that they had some kind of plan for that.
In particular:
limited hours of operation;
a decrease menu size;
removing from the menu time-consuming dishes and expensive items to cut back on cost,
condensing their freezers so that only a smaller number was in function, or
working with a skeleton crew.
The next question was whether there was government or community assistance offered to the restaurant. The vast majority of the respondents had no idea about it. The question that arose is whether assistance measures are not clear to business owners or they haven't looked at the options available.
Final thoughts
At the end of the survey, when participants made final comments, a large number of them seized the opportunity to spread some positivity and share their confidence that humanity will overcome this crisis.
The food industry sector is greatly affected by COVID-19. However, as long as business owners remain calm and positive, and get creative if they show the necessary respect and dedication to their businesses and customers, they will get through this with minimum loss.
Source: https://www.surveymonkey.com/results/SM-QVJNSKDM7/
Curious to learn how I can help you and your restaurant business? Let's talk!
Book a free 30-minute consultation. To learn more, visit my restaurant consulting or restaurant coaching services pages. To acquire new skills, visit our Online Culinary School and start making change.